by Paige Donner
Pierre Lurton of Yquem (& Cheval Blanc), Refettorio Paris by Alexandra Forbes, and Chantal Bregeon-Gonet of Champagne Philippe Gonet
This December podcast shaped quickly up to be a very festive one. We have champagne from Côte des Blancs, sweet wine from Yquem in Sauternes, the region that Thomas Jefferson famously visited in Bordeaux a couple centuries ago; and we have a lot of heart and soul with a firsthand account of the Refettorio Paris, a charitable Paris restaurant championing Food For Soul.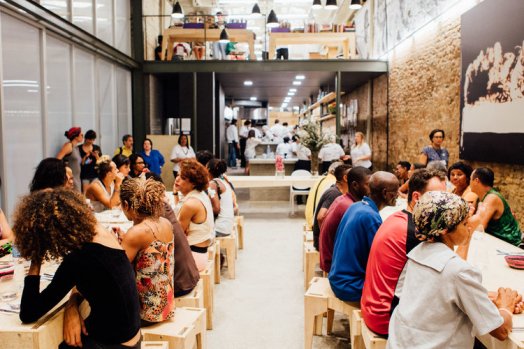 First we begin our Christmas season 2019 show with an account by Alexandra Forbes, a journalist originally from Brazil who moved to Bordeaux about 2 years ago. She was very involved in the Refettorio Paris project, an initiative originally undertaken by 3-Michelin star chef Massimo Bottura. The Food For Soul space is literally in the heart of Paris, underneath the beautiful La Madeleine church. The project is one that provides not just nourishment for the underprivileged but also a meal enjoyed with dignity and in beautiful surroundings.
---
Paris GOODfood+wine Season 6 is generously being brought to you by IoTShipping.xyz
'Never lose track of your assets'
EPISODE 51 IS ALSO BEING BROUGHT
---
We then turn to Pierre Lurton, who happens to be Alexandra's husband. He is the managing director of not just one but two world-class, mythic Bordeaux estates, Cheval Blanc and Yquem. Because Sauternes is so emblematic of the holidays here in France, its golden, honey like elixir seems to pair with such great finesse with the sweet and savory dishes of the season, we speak with him more about Yquem this time. In the late 1700s, when Thomas Jefferson was the second US Ambassador to France, he visited – and fell in love with the wines from – this chateau in Sauternes. Even General George Washington, later the first U.S. president, became a great admirer of Chateau d'Yquem wines.
Chantal Bregeon-Gonet of Champagne Philippe Gonet pictured here at Le Dokhan's, Paris
Photo by Paige Donner © 2019
And, of course, champagne is a necessary prescription for any festivities, but especially the end of the year holidays. For this occasion, Chantal Bregeon-Gonet, the 7th generation in her family's artisanal champagne house, Champagne Philippe Gonet, treated us to a tasting of her raspberry noted rosé. We met up at her favorite, and Paris' most inviting, and most serious, champagne bar, Le Dokhan's in the 16th arrondissement.
I hope you enjoy this episode. And even better, I hope you enjoy while roasting a ham or turkey or perhaps even a duck in a medley of vegetables like pumpkin, turnip, squash and other winter delicacies in the oven as you perhaps put your feet up to enjoy the wafting aromas of warmth and seasoning and enjoy a quiet moment to yourself before the holiday frenzy really sets in.
And I would also like to add a very special thank you to the George V sommelier, Eric Beaumard, a legend among wine circles, and his equally talented friend, 3 Michelin star chef Christian Lesquer, for putting on such a mythic dinner for the iconic Le George V hotel's 20th anniversary.
Above is a picture of the wines and dishes served for a dinner that will go down in the history books of legendary Parisian dinners. The pairing of the music with each wine and each dish was another stroke of genius that created this outstanding performance of food and wine and music and art.
Cheers! Joyeux Noel & Bonnes Fetes Fin d'Année !
Links:
Reffetorio Paris
https://refettorioparis.com/fr/index.html
Sauternes Tourism
https://www.tourisme-sud-gironde.com/vignobles-routes-des-vins/sauternes-barsac/
Chateau d'Yquem
Champagne Philippe Gonet of Le Mesnil-sur-Oger
https://www.champagne-philippe-gonet.com/en/
More Notes on Food For Soul/Refettorio
Refettorio Paris aims to serve 100 meals a day using about 130 kg of recovered food. In addition to addressing the issue of food waste, the project seeks to raise awareness on the increasing problem of social isolation.

Refettorio Paris is not just about offering a warm meal; through the values of hospitality and beauty, the project wants to engage the guests, the volunteers, the chefs and the whole community in a holistic approach to nourishment: for the body as well as for the soul.
---
---
Paris GOODfood+wine Season 6 is generously being brought to you by IoTShipping.xyz
'Never lose track of your assets'
---
---
Show Notes: LocalFoodAndWine.wordpress.com & BordeauxFoodAndWine.wordpress.com ChérieduVin.wordpress.com
Contact Host-Producer, Paige Donner @http://PaigeDonner.info
---
---
© Paige Donner 2019
---
---
Listen to Paris GOOD food + wine on :
All photos (where noted) copyright 2018 Paige Donner FoodWine.photography
iTunes – Paris GOODfood+wine /
Media Engagements, speaking and collaborations: contact PaigeDonner.info